"The difference
between architecture
and engineering comes
in only with the creation
of schools. It's a
bureaucratic distinction."
Santiago Calatrava
Prolaborate
With Prolaborate, you maximise the value of enterprise architecture in your organisation and lay the solid foundation for key decisions.
Prolaborate in 90 seconds
Focus on the essentials for the agile organisation:
Reduce the complexity of architecture models
Simplify collaboration
Learn more about Prolaborate,
SHARING & COLLABORATION SOFTWARE
FOR ENTERPRISE ARCHITECT
Take the Subway for Digital Transformation.
What's the easiest way to get from A to B? This is a question we ask ourselves regularly in a variety of contexts. Crucial to a successful transformation from our baseline (A) to our target state (B) is an comprehensible route map and these 5 stages.
Focus on the Essentials for an Agile Organization with Prolaborate.
With Prolaborate, you maximize the value of enterprise architecture, lay the groundwork for decisions, and get the fastest from A to B.
The Transparent Organization
From A to B with Enterprise Architecture and Prolaborate
Creating Transparency
Simplifying Architecture with Prolaborate
You have EA models in your company and would like to make them more transparent, more visual and more tangible for different target groups and information requirements? We show you with your existing EA models how to solve this task with Prolaborate.
Your Challenge
How does the information we elaborate with Enterprise Architecture get to our stakeholders? How can data be provided easily, quickly and consistently?
Our Method
3 steps for more transparency in your architecture models.
model review and efficiency of the modeling approach
implementation of Prolaborate
definition and configuration in Prolaborate
Your Benefit
Information is automatically aggregated – for clearly defined information needs
Information exchange at the right time, with the right level of information for the next decisions
Fewer reviews, fewer error sources and fewer tool breaks due to the integrated way of working
DURATION – OUR PROJECT VOLUME
  Step 1: 2-10 days
Step 2: 1-2 days
Step 3: 2-5 days
The measured
organization
From A to B with Enterprise Architecture and Prolaborate
Recognizing Potential
Visualizing Business Capabilities and Business Services in the Enterprise Cockpit in real-time
Data is the new gold and acts as a live ticker of every company. But how can it be visualized in such a way that it actually brings benefits to the respective stakeholders? We'll show you how to accelerate the business by bringing data and information together. By visualizing business capabilities and business services with Prolaborate, you can see the potential in your business.
Your Challenge
There is a lot of knowledge in your company, stored in data that shows the current state of the company. But this is often only available in a decentralized manner or in a version that is not aggregated and comprehensible to the respective stakeholders. As a result, valuable information is not available in the depth that would greatly simplify both day-to-day business and strategic decisions.
Our Method
2 steps for the "live ticker" of your company
Develop a model that contains information relevant for the stakeholders
Definition of the necessary steps in Prolaborate to be able to answer the desired questions of the stakeholders
Your Benefit
You can let different stakeholders participate in the same data – in the depth of information that is understandable and relevant for day-to-day business or strategic decisions. By using Prolaborate, collaboration across departmental boundaries is easily possible.
DURATION – OUR PROJECT VOLUME
Step 1: 5-10 days
Step 2: 2-5 days
The agile Organisation
From A to B with Enterprise Architecture and Prolaborate
Leveraging Agility
Integration and Automation with Prolaborate
The modeled, agile organization: Is this what you would like to achieve in your company? We show you how to integrate Enterprise Architect and Prolaborate into the agile organization. You will understand which change from ACTUAL to TARGET is necessary to achieve the goal of the agile organization.
Your Challenge
How to provide changed information in an automated and aggregated way when changes occur? How can we move to an integrated way of working that has fewer tool breaks and is therefore less prone to errors?
Our Method
Identify the potential of aggregation in Prolaborate
Adaptation of Prolaborate views for the respective stakeholders
Your Benefit
Faster and easier access to necessary information increases agility in the company. By integrating different tools and automation, information is available up to date.
DURATION – OUR PROJECT VOLUME
Step 1: 5 days
Step 2: 5-10 days
The validated Organisation
From A to B with Enterprise Architecture and Prolaborate
Reduce Complexity
Validation in Enterprise Architect for Agile Modeling and Accurate Representation in Prolaborate
Enterprise Architect is a modeling platform with many options. However, this can make the barrier for modeling too high. In Enterprise Architect, predefined profiles, constraints and validation rules can be used to set this hurdle so that agile modeling becomes more easy. At the same time, you can meet compliance requirements and automate modeling rules across the enterprise.
Your Challenge
Do you want to gain more certainty in your models and thus in your statements? Do you want to model more and faster for new requirements instead of having to think about structure and rules first?
Our Method
Step 1 to 5 in Enterprise Architect, step 6 in Prolaborate:
1: Develop a model with all necessary information
Developing questions with the stakeholders
Develop a sample solution (reference model), to answer the questions
2: Derive the project-specific metamodel and further rules and guidelines for the modeling approach
3: Configure the EA (simplify the user interface, adapt the modeling language, map rules with UML profile and metaconstraints.
4: Implement validation rules
5: If necessary, implement additional wizards in the EA
6: In Prolaborate: Definition of views and dashboards
Your Benefit
You gain confidence in the models you develop and the information derived from them, because they follow a defined validation. Due to the set profiles and defined modeling possibilities, you are faster in the concrete elaboration.
DURATION – OUR PROJECT VOLUME
Step 1 in EA: 5-10 days
Step 2 in EA: 1-3 days
Step 3 in EA: 1-3 days
Step 4 in EA: 2-10+ days
Step 5 in EA: 5-10+ days
Step 6 in Prolaborate: 1-5+ days
The practicable Organisation
From A to B with Enterprise Architecture and Prolaborate
Achieving Goals
Achieving Goals
You know who needs what kind of information when: the Information goals have been set and defined. But how can these be achieved without spending too much time and budget on development? With our sample solutions for your questions, we build a prototype in Prolaborate that you can easily manage and adapt in a budget-friendly way.
Your Challenge
You know what information who needs in your company. But it is not clear to you how to prepare this technically so that it really reaches the stakeholders. You have not yet found the bridge from the model to the aggregated presentation in Prolaborate.
Our Method
Three steps for your budget-friendly, goal-oriented prototype
Discussion of goals and concrete questions
Comparison of questions with sample solutions, filling the sample solution with your sample data
Development of the prototype in the productive system
Your Benefit
With our sample solutions you can solve your specific problem more quickly. We realize a first prototype for you with little initial effort. This saves you high development costs and allows you to intervene more easily and quickly before high costs have been incurred.
DURATION – OUR PROJECT VOLUME
Step 1: 1 day
Step 2: 1-2 days
Step 3: 3-10 days
The sustainable Organisation
From A to B with Enterprise Architecture and Prolaborate
Developing Sustainability
the Enterprise Anchor "Sustainable Enterprise Architecture" ("SEA") in Prolaborate
Today, sustainability is more than just "good talk" for companies. Not only society, but also regulators are now placing compliance standards that must be demonstrably met by a certain date. The UN's Sustainable Development Goals ("SDGs") set guardrails here, from which regulations for countries and industries are cast. Modeling creates an important knowledge base and shows how these guard rails are mastered in the company.
Your Challenge
Anchoring sustainability is the core task of every company. But how can this be presented in such a way that existing processes and the resources used actually meet these requirements?
Unsere METHODE
2 steps for more sustainability with Enterprise Architecture and Prolaborate
Introduction to the target system of Sustainable Development Goals (SDG's), derivation of company-relevant goals, clarification of existing potentials and new foundations to be created
Implementation of the target system in models with Enterprise Architect and Prolaborate Dashboards
Your Benefit
The topic "sustainability" and the regulations that have to be fulfilled with it are on every agenda of board and management. With "SEA" you prove the sustainable value of your modeling initiatives.
DURATION – OUR PROJECT VOLUME
Step 1: 3 days
Step 2: 3-5 days
Prolaborate
… is part of the Sparx Systems Product Suite and the exchange and collaboration platform for Enterprise Architect from Sparx Systems.
… integrates seamlessly with existing model-based tools such as Jira, Confluence and Sharepoint.
… provides a highly intuitive way to share and edit diagrams and model content.
Labnaf
A scalable Model Kit for a holistic Enterprise Architecture.
Why Labnaf?
With Labnaf you successfully anchor enterprise architecture with one software!
Strategy, enterprise and solution architecture in one enterprise architecture framework
Established standards and best practices combined in one software
IT and business: a common picture of the company's processes as a basis for collaboration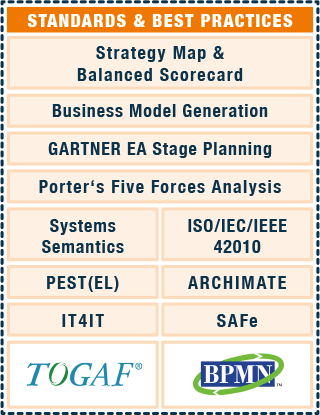 Visualization of the company
Visualization of processes, the infrastructure and the correlation
Organization and automation of architecture management
Strategy – Innovation
A strategy architecture framework to drive digital transformation
Strategy – Change Management
Diagnose information portfolios, processes, business functions, applications, technologies and the dependencies they contain.
Strategy Execution
Design of the end-to-end business architecture
Labnaf offers the end-to-end collaboration with a single language from the idea to the software in production.
There is no need to reinvent metamodels or practices, you can get straight into the real architecture work without having to invest a lot of time in advance.
Enterprise architecture
«out-of-the-box»
Unified standards and best practices for enterprise architecture with transparent licensing costs
Goal Setting
Vestibulum ac diam sit amet quam vehicula elementum sed sit
Relationship Coaching
Vestibulum ac diam sit amet quam vehicula elementum sed sit
Stress Management
Vestibulum ac diam sit amet quam vehicula elementum sed sit
Career Advice
Vestibulum ac diam sit amet quam vehicula elementum sed sit
Labnaf for CIOs/CTOs/…s
Your target:
Transparency and Optimization of the Digital Transformation
How Labnaf supports you:
Managing Growth while reducing Costs
Labnaf unifies standards and best practices for enterprise architecture with easily calculable licensing models.
Coordinates IT & Business by creating Transparency and simplifying Communication
Labnaf uses a metamodel as a flexible construction kit and a scalable, intuitive language based on Archimate.
Optimizing Quality for Transformation Initiatives
Labnaf accesses an already defined, easy to adapt repository.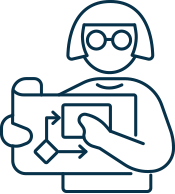 Labnaf for enterprise architects
Your Target: mastering Complexity with Enterprise Architecture and increasing the Value Contribution
How Labnaf supports you:
Application Management
Labnaf simplifies direct and continuous collaboration from business idea to implementation, reducing costs during the entire project cycle.
Content Optimization
Labnaf allows you to import data and create automated consistent diagrams, on-demand or periodic.
Dashboard and Reports
Labnaf provides information to a wide range of stakeholders, tailored to their specific information needs.
Governance
Labnaf checks the documentation of the architecture for completeness, presents the results in dashboards and informs business and IT.
Innovation – Transformation –
Planning – Documentation
We show you how you tackle these tasks with Labnaf.
Why Sparx Services?
We are field-tested experts for active Enterprise Architecture Management. 4 key factors are the prerequisite for a successful introduction of EAM:
the experience to master different project situations
the tool that is easy to use
the language to facilitate communication between all stakeholders
the architecture approach that is accepted by all stakeholders.
As long-standing experts for modeling and architecture, we have many years of experience on these four levels.
As sparring partner, trainer and coach, we accompany companies and organizations on their way to active Enterprise Architecture Management.
We are here to simplify your Enterprise Architecture experience and looking forward to discussing your individual path to a model based company.
Image: https://unsplash.com/de/@adriencesard